Lee's Music carries a HUGE variety of musical products. If you don't see it here, visit our store at 1305 Battle Street, Kamloops!

Podium
22920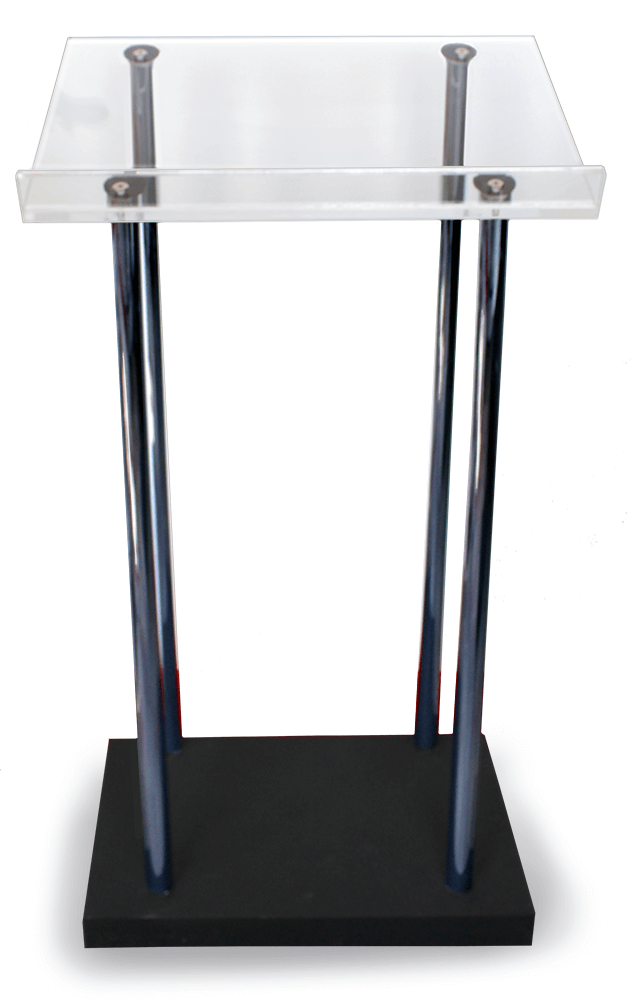 Speaker's Podium

FREE SHIPPING!

Class and comfort define this hand crafted podium for speaking and lecture events. Sleek and sturdy, the podium will add a dash of elegance to any event. The wooden base heavy and very stable. Velcro can be added to the outside of the front legs for easily changeable sign display. Microphone wiring can be built in to the structure for even more convenience! The mic mount will work with most gooseneck microphones. If you need a microphone, we have a selection of great quality mics for you to choose from, just let us know.
Years of looking for an outsourced podium with the quality and cost effectiveness desired by the professionals at Lee's Music Audio Visual services kept coming up with unsatisfactory results. Then Mike Miltimore decided to build one himself - a podium with everything he wanted. These podiums are crafted at the same facility and with the same care that his world famous Riversong Guitars are.
Legs: Chrome plated down tubes
Lectern: Plexiglass
Overall Height: 47 " (119.5cm)
Platform size: 24" x 16" (61cm x 40.65cm)
Weight: 40lbs. (18.25kg)
Additions available:
Microphone wiring inside podium
Wheels for with locking mechanism for easy movement
Branding package - aluminum backed full colour logo for podium front
Specifications subject to change without notice. All measurements are approximate.

Optional Extras
Locking wheels (60) Microphone mount & internal mic jack (180) Branding package - aluminum backed full colour logo (150)